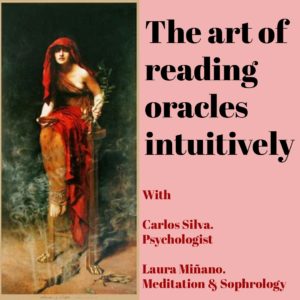 THE PROPOSAL
* Session guided by Carlos Silva, psychologist & Laura Miñano, sophrologist and meditation teacher
*We will have, a discussion about intuition and oracles, meditation, and meditation to dig into our intuition. as well as a space for sharing our questions and practicing together.
* Bring your oracle cards (if you have), something to take notes, your water bottle, and place yourself in a comfortable and private environment.
DATE: Friday, 6th of November, 2020
TIME: 18h30 – 20h30 – Online via Zoom.
LOCATION: Online via Zoom, you will receive an email 30 min prior to the event with the Zoom meeting information. 
PRICE: Pay as you want or can, recommended a minimum of 10 CHF
EVENT FB
RESERVATIONS:
* Book your spot at the address below. You need to sing up to the platform, then you are requested to confirm your sign up email, finally, go and search for the event of the 6th of November on the calendar and sign up there too. You will receive the email with the Zoom information, 30 min prior to the event. Any help or information you might need do not hesitate to contact: laura.minano@gmail.com or WhatsApp +41786307786