Sat Nam,
I am happy to announce Avtar Kaur is coming again to Lausanne on 11/05/2019 for the one-day Kundalini Yoga Experience "Meaningful Transformation". She will share her deep knowledge on Life Cycles and the powerful kundalini yoga tools can effectively guide us through changes in life. Please go to the 
Facebook Event
 for full information. It will take place from 9.30 a.m. to 16.30 a.m. A vegan gluten free lunch is included in the price. Please contact kundaliniyogasuisse@gmail.com for signing up.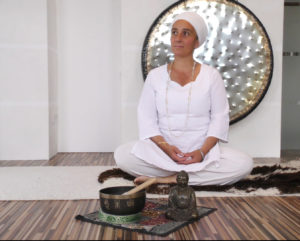 *ABOUT AVTAR KAUR:
She is a KRI certified teacher (Level 1, 2 and 3) and Level 1 trainer in Kundalini Yoga Teacher Training programs, with the School of Karam Kriya. She became a Karam Kriya Consultant in 2004, as numbers awareness became her passion. Avtar Kaur teaches internationally Kundalini Yoga and Karam Kriya workshops, trainings, specialty trainings for women in Europe and in the USA.
She felt very inspired when in 1998 she met Yogi Bhajan in France for a Master's Touch class. She loves to teach Kundalini yoga for the consciousness and the vitality it gives to the people.